9 Ways to Make Popcorn Extra
30th Aug 2021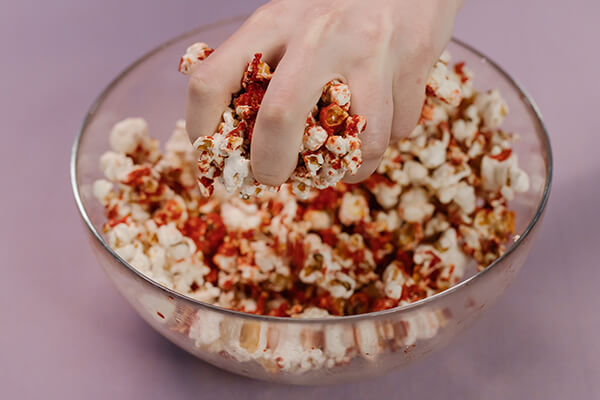 Popcorn is timeless.
It's the perfect snack and can be made to suit any palette.
Whether you like plain, buttered, caramel popcorn, or cheese popcorn, those are easy to make and readily available in different flavors, but plain popcorn can also be upgraded to your liking. Before you sit down for your next movie night, are prepping for healthy snacks for a party or get together, or just looking for a quick snack for you, try any of these options to add a little extra to each bite.
Seasoning Options
These ideas are quick and easy to get you on your way quickly, while still adding a little zest and variety to the expected.
Italian Popcorn
Add a little chopped basil, a few drizzles of olive oil, and a shake or two of garlic salt.
Sweet Popcorn
Mix together a little sugar and cinnamon to create a perfect, tasty seasoning for buttered, or even plain popcorn.
Cowboy Popcorn
Add a mixture of melted butter and buffalo wing sauce (mild to spicy, depending on your taste buds) over your popcorn for a little extra zest. Top it off with a bit of ranch dressing mix or seasoning.
Tex/Mex Popcorn
Mix together 3 tablespoons of paprika, 1/2 teaspoon chili powder, 1 1/2 tablespoons brown sugar, 1 teaspoon each of salt, garlic powder and onion powder, then add to your popcorn and mix.
Two great tastes
Grab some powdered peanut butter, add in a little powdered sugar and a dash of salt, then sprinkle it over your popcorn for a delightful flavor.
Pumpkin Spiced Popcorn
We know you're looking for it, so here ya go. 1 teaspoon cinnamon, 1/4 teaspoon ground cloves, 1/2 teaspoon ground ginger. Simply add to your popcorn to your liking.
More Adventurous Options
Itching to take it to the next level and get your gourmet on? Here are a few recipes that might make you want to put on your chef's hat.
Chunky Monkey Popcorn
From Real Simple
Ingredients
8 oz plain popcorn
1 cup milk chocolate meltables
1 tablespoon banana instant pudding
1/2 cup dried banana chips
1/2 cup chopped walnut
Directions
Melt the chocolate in the microwave on medium power for 1 minute.
Pour the melted chocolate over the popcorn (do not mix yet).
Add banana chips and chopped walnuts.
Gently stir to coat the popcorn.
Spread the popcorn on a cookie sheet, parchment paper, or baking mat to cool (takes about 20 minutes).
Break it up and snack away.
Tequila-Spiked Caramel Corn
From Food and Wine
Ingredients
16 cups air-popped popcorn
½ cup salted roasted peanuts
1 cup light brown sugar
1 stick unsalted butter
3 tablespoons agave nectar
2 tablespoons light corn syrup
½ teaspoon salt
¼ teaspoon baking soda
1 ½ tablespoons tequila
Directions
Preheat oven to 250.
Add popcorn and peanuts in an oven safe bowl.
Combine brown sugar, butter, agave, corn syrup and salt in a saucepan, bring to a boil, stirring constantly, until sugar is fully dissolved.
Boil over medium heat for about 4 minutes.
Remove from the heat and stir in the baking soda and tequila, forming a foamy syrup.
Pour immediately over the popcorn and peanuts using 2 spoons. Toss the mixture to cover the popcorn.
Spread the popcorn evening on 2 non-stick baking sheets and back for about an hour, stirring and swapping the backing sheets on the racks. Bake until golden brown and almost dry.
Once ready, turn off the oven and open the door, letting the popcorn cool still in the open oven.
Old Fashioned Pink Popcorn
From Domestic Dreamboat
Ingredients
About 24 cups of popped popcorn
2/3 cup whole milk or half and half
1 Tablespoon white corn syrup
1/4 teaspoon salt
2 cups granulated sugar
1 teaspoon vanilla
Pink food coloring
Directions
Line 2 large baking sheets with parchment paper or baking mats.
Place popcorn in bowl(s).
Mix milk, corn syrup and salt in small saucepan, pour the sugar into the center. (don't get any on the sides of the pot).
Stir constantly while brining to a boil, until the sugar is dissolved.
Continue stirring occasionally over medium heat until the mixture reaches 230 degrees F.
Remove from stove and stir in vanilla and food coloring.
Quickly pour the mixture over the popcorn and mix it until the popcorn is fully covered.
Spread the popcorn over the baking sheets to dry.
Once dry, eat or store.
More great options
25 Ideas for both Sweet & Savory Popcorn Toppings
Homemade Popcorn Seasonings
50 Flavored Popcorn Recipes