Argires Snacks Brand Cheddar Popcorn: UPROXX's Top Picks for 2023
29th Sep 2023
At Argires Snacks, our commitment to delivering the finest popcorn has earned us the top spots (out of 35 brands compared) in UPROXX's recent review of the best cheese popcorn brands in 2023.
UPROXX confirmed what our loyal customers have known for years – Argires Snacks popcorn is in a league of its own. Our commitment to quality ingredients, exceptional flavor, and variety has set us apart as the ultimate choice for cheese popcorn lovers.Our popcorn is made from premium kernels and real cheese, ensuring every bite is an indulgence worth savoring.
Here is what UPROXX says about our products.
Argires Snacks Brand Outrageously Cheezy Cheddarcorn: #1 Orange Cheddar Popcorn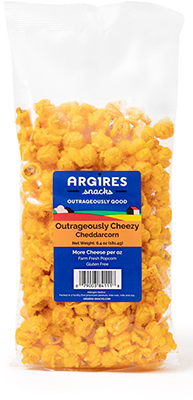 'The amount of cheese is blissfully intense - it's like the popcorn is enrobed in a creamy layer of cheddar cheese. The flavor is here too, it's not just the cheesiness…..it's rich and eats like an aged cheddar. The cheese itself is a high-quality product….one of the top selections in the entire cheese popcorn rankings due to its high-quality superb cheese flavor, large fluffy puffs, fresh crunch, and overall crave factor……there is an addictive element that makes you want to taste that extreme level of cheesiness again and again and again."
Argires Snacks Brand Savory Hot Cheezy Cheddarcorn: #1 Spicy Cheese Popcorn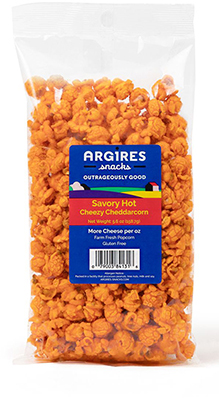 "Argires is easily the cheesiest popcorn in the spicy category……Argires tastes like a spicy cheese Doritos from a flavor perspective, in the best way……The popcorn pieces are obscenely coated in cheese. …..there's a good spice to pretty good heat ratio that helps balance the richness of the cheesiness."
Thank you to UPROXX for recognizing Argires Snacks as a leader in the cheese popcorn industry in 2023. We're committed to maintaining the quality and flavor that have made us a top choice among snack enthusiasts.
Don't miss out – shop our popcorn category today and indulge in irresistible treats! Discover our mouthwatering selection of popcorn, including the award-winning Outrageously Good cheddarcorn and a tempting array of other flavors.