Brazil Nut Recipes
8th Nov 2021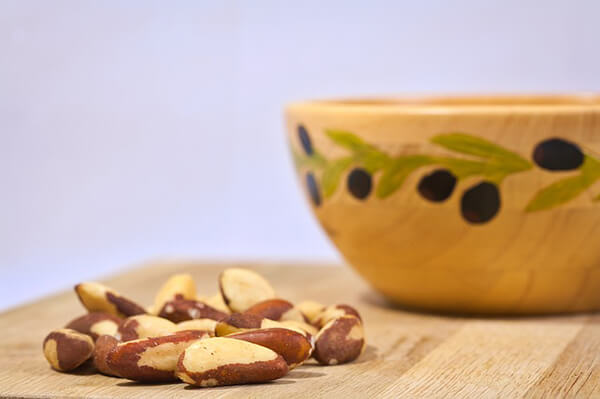 From heart health and cholesterol to cognition and mood disorders, bone density and thyroid disease, these nuts are the bomb. And because they're technically seeds, even those who have known nut allergies or allergic reactions to nuts may be able to consume them safely (always check with your health professional first!)
Brazil nuts are an incredible source of health benefits, not to mention they are delicious. To learn more about all the health benefits, check out our blog article.
For you to enjoy these outrageously good nuts, we wanted to put together a list of recipes you can try:
Brazil Nut Butter
A great option for every day or parties. A simple and tasty way to add both zest and health benefits to almost any dish. Brazil nut butter can be used as a traditional spread, in other recipes to replace traditional butter, or even used in smoothies or drizzled over yogurt, ice cream, or pie.
Ingredients
Brazil Nuts - 2 cups
Directions
Roast the raw brazil nuts in the oven at 165ºC (330ºF ) for 10 minutes
Leave until cool to the touch
Blend the nuts in a food processor or blender
Blend until smooth
(best done in intervals so the nuts--or the machine--don't overheat. The longer they are blended, the runnier consistency the homemade brazil nut butter will be. 5 minutes is more than enough for a deliciously smooth homemade brazil nut butter.)
Transfer to an airtight glass container
Notes
Brazil nut butter can be kept in the refrigerator in an airtight container for 2-3 months.
It can also be frozen for 3 months.
Gluten-free
Vegan
Vegetarian
Brazil Nut Refried Beans
Spice up your Mexican dishes with a powerful yet delicious healthy addition.
Ingredients
4 Brazil nuts
400g can kidney beans
1 garlic clove , crushed
1 tsp ground cumin
1 tsp ground coriander
1 tsp smoked paprika
2 limes , juiced
Directions
Crush the Brazil nuts, with a pestle and mortar or in a mini food processor, to a coarse paste
Tip into a saucepan, then add the kidney beans, including the liquid from the can
Fill the can halfway with water and add that too
Stir well, then add the rest of the ingredients except for the lime juice
Heat gently for 15 mins
Then mash the beans with a potato masher until they have a loose porridge-like consistency
Keep cooking, stirring occasionally, until the mixture is still soft, but not runny
Add the lime juice and seasoning to taste
Notes
Roasted Broccoli with Brazil Nut Pesto
When broccoli just isn't healthy enough -- add a little zest of flavor and punch of whole body health to this delicious dish.
Ingredients
1/2 cup coarsely chopped flat-leaf parsley
1/4 cup Brazil nuts, coarsely chopped
2 tablespoons water
1 tablespoon chopped tarragon
1 large garlic clove, chopped
1/2 teaspoon finely grated lemon zest
5 tablespoons extra-virgin olive oil
3 tablespoons freshly grated Parmesan cheese
Salt and freshly ground pepper
2 1/2 pounds broccoli, large stems discarded, cut into 4-inch-long florets
Directions
Preheat the oven to 500°
In a mini food processor, combine the parsley with the Brazil nuts, water, tarragon, garlic and lemon zest and pulse to a coarse paste
Add 3 tablespoons of the olive oil and the Parmesan and process to a slightly smooth paste
Season with salt and pepper.
On 2 large, rimmed baking sheets, toss the broccoli florets with the remaining 2 tablespoons of olive oil and spread in an even layer
Season with salt and pepper
Roast the broccoli in the center of the oven for 8 minutes
Switch the baking sheets and continue to roast for about 8 minutes longer, or until the broccoli is browned and crisp-tender
Transfer the broccoli to a platter, drizzle the pesto on top and serve.
Notes
Serves 6
The pesto can be refrigerated overnight. Bring to room temperature before using.
The pesto sauce can be used on pasta or other dishes as well
Chocolate & Brazil Nut No-Bake Energy Bites
Satisfy your sweet tooth in a healthy way with these chocolate brazil nut no-bake energy bites. So simple and so good for you!
Ingredients
1/4 cup cocoa butter, melted (also sold as cacao butter) (alternative: refined coconut oil)
2 tablespoons unsweetened cocoa powder
1/4 cup almond butter (alternative: any other nut or seed butter)
2 tablespoons agave nectar (alternative: honey or maple syrup)
1/4 t. sea salt + additional for sprinkling
1 cup brazil nuts
Directions
Melt the cocoa butter in the jar in the microwave for about a minute
Mix it with a spoon and then pop it in the microwave for another 30 seconds if it needs to be smoothed out more
Combine the cocoa butter, almond butter, cocoa, agave, and sea salt in the food processor and process until the ingredients are combined and smooth
Add the brazil nuts to the food processor
Process until chopped up and combined
Use a small cookie scooper to scoop balls of the mixture into a lined baking sheet
Sprinkle the top with crumbled brazil nuts and sea salt
Store in the fridge until you're ready to eat
Notes
Spicy Rosemary Roasted Brazil Nuts
We're not saying Brazil Nuts aren't delicious as nature made them, but if you want a quick change or a little variety (and want to give your house an amazing aroma), try this for a quick new flavor, to use on their own or add to salads, sauces, or more.
Ingredients
2 cups raw Brazil nuts
1 tbsp extra virgin olive oil
1/4 cup fresh rosemary, finely chopped
½ tsp sea salt
½ tsp cayenne pepper
Directions
Preheat oven to 350 F (175 C)
Place Brazil nuts in a bowl and add rosemary
Drizzle with olive oil and sprinkle with sea salt and cayenne pepper, tossing to coat evenly and completely
Cover baking sheet with baking paper. Pour nuts onto baking paper and spread evenly in a single layer
Place in oven and roast for 15-17 minutes
Remove from oven and let cool to room temperature before eating
Notes
Now go ahead and order some of our Shelled Raw Brazil Nuts to try these tasty recipes.