Easy + Cheesy Popcorn Snack Mix
14th Dec 2021
This article and recipe was originally posted at Feasty Travels.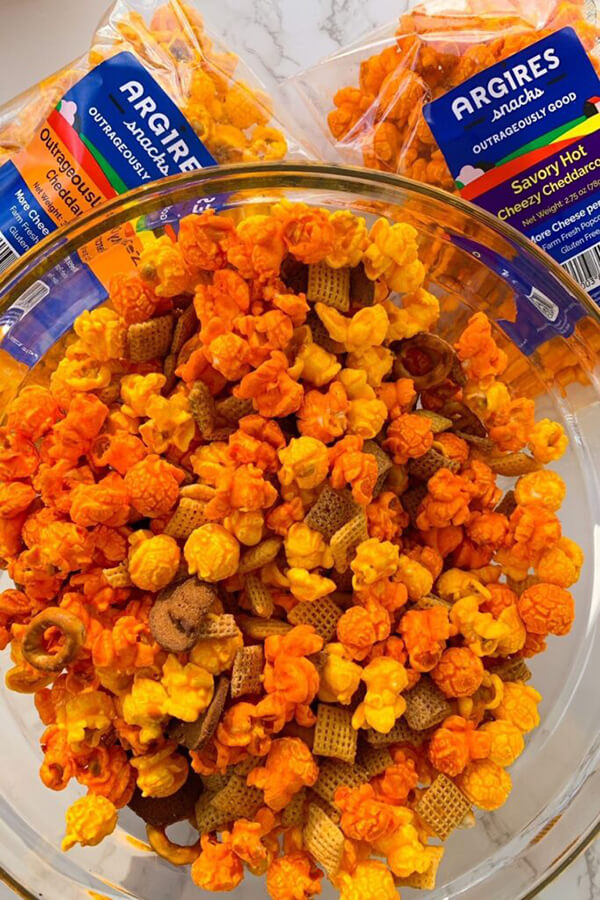 An indulgent, better-for-you snack that you can enjoy this holiday season. If cheese and popcorn made a baby, this popcorn snack mix would be it! Perfect for snacking on your own or with family watching Christmas movies!
Ready to spice up your snack rotation? This popcorn snack mix recipe will not only add some PIZAZZ to your movie night but it will be something that everyone looks forward to. It features Argires Snacks and highlights the importance of a delicious and high quality product. While this recipe features their Cheezy Popcorn, they have tons of other delicious and unique products for you to try.
Don't worry, you don't have to wait to make this recipe until your next movie night. It's perfect to bring as an easy but DELICIOUS snack to a family or holiday gathering. And since we're right in the middle of this holiday season, there is no better time to make it than now!
Are you extra busy these days?
Well, you are not alone! the holidays in general are filled with extra stress and time flies way too fast. With that in mind, this recipe takes less than 5 minutes to make and will take the holiday stress off your plate. So do yourself a favor and let this holiday snack mix be your go-to for all gatherings this holiday season.
Frequently asked questions
Why Argires Popcorn?
Because it's OUTRAGEOUSLY delicious. Unlike any popcorn I have had before!
Where Can I Buy Argires Popcorn?
Click this link to find out where you can buy their product!
What Mixes Well With Popcorn?
In this recipe, I use a classic snack mix to the popcorns. This adds different textures and most importantly the crunch factor to make this recipe perfect to munch on.
How Can I Be Creative With Popcorn?
This recipe does all of the creativity for your. However, you can add extra twists that make this recipe extra special to you. Adding some chocolate chips, M&Ms or nuts can add another level of flavor to this snack mix.
Is Cheese-Flavored Popcorn Healthy?
Everything is healthy in moderation! Do I suggest eating the entire bowl at once? Of course not. But it doesn't mean you can't enjoy this recipe without any guilt! This recipe is made for 3 people and best when shared.
What Should I Bring As A Holiday Party Snack?
This popcorn snack mix! The prep couldn't be easier and guess what, it won't break the bank either.
Popcorn Snack Mix Recipe
An easy but outrageously delicious snack to have on your own or to share with family and friends. Featuring the delicious and high-quality Cheezy Cheddarcorn from Argires Snacks!
Ingredients
3 cups Argires Outrageously Cheezy Cheddarcorn
3 cups Argires Savory Hot Cheddarcorn
2 cups your favorite snack mix
Instructions
Add all of the ingredients into a large bowl and mix together
The most important step of all, ENJOY!