Let's Talk Caramel Popcorn
1st Feb 2022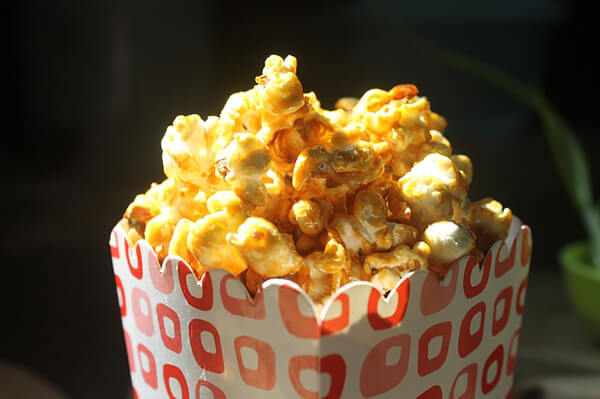 Caramel popcorn is one of America's favorite snacks.
Snacking is one of our favorite pastimes, or rather, is part of all of our favorite pastimes. We know you are always looking for healthy snacks but don't want to entirely sacrifice flavor, fun, and history. That's where popcorn comes in, a traditionally healthy and favorite snack that can be customized to your taste.
Over the years folks have gone from hand popped popcorn, specialty treats at the holidays, to instant microwaveable popcorn. Lately, though the microwave versions haven't really been keeping up with the demanding and more healthful nature of snacking.
But popcorn has.
We see more and more popcorn snacks available everywhere, in bags, boxes, gourmet shops, and yes, at fairs and grocery stores alike. But we also see the varieties increasing.
It used to be the choices were simple, plain or with butter and salt, and then caramel popcorn options, which hooked our sweet tooth and introduced a whole new approach to eating popcorn.
History of Caramel Popcorn
Caramel popcorn became a household name with the introduction of the commercially available snack known as Cracker Jack. This was the concoction of two German immigrant brothers in the US, Frederick and Louis Rueckheim, who had a popcorn store and tried out different recipes. In 1896, while debuting their new treat at the Chicago World's Fair.
While the original attempt didn't gain the huge response they had hoped, many decided it was too sticky and the molasses flavoring in the original recipe was a little overpowering, they returned to their store and to the kitchen to fine-tune the recipe. They did. And it became a hit. A customer expressed delight at the flavor, said it was Cracker Jack, and thus started a new tradition in snacking, and the future of caramel popcorn.
Once that became popular people all over began making their own and experimenting with different mixes and toppings, eventually making Caramel Popcorn a strong competitor to the existing popcorn market and expanding its consumption from just holidays and fairs to every day.
It was in 1908 when the song "Take Me Out to the Ballgame" became popular, forever tying Cracker Jacks and caramel corn to baseball, and as a sports snack, completely changing the game for all!
By including nuts, toffee, chocolate, and other delicious ingredients, there are now thousands of varieties and experimenting, but the original still remains a top choice!
Caramel Popcorn Facts
Did you know ….
April 6th is National Caramel Popcorn Day.
While popcorn began as a special treat, mainly for the Christmas holidays, or available at fairs, caramel popcorn became widely associated with Halloween, as a sweet treat offering.
You can store caramel popcorn in an airtight container for up to three months.
You can store caramel popcorn in the freezer. Store all together or in serving-size freezer bags to keep your popcorn fresh. The popcorn won't technically freeze, but it does keep it fresher a bit longer.
While caramel popcorn is delicious, you can add in extra variety options by drizzling on melted chocolate, cheddar cheese, nuts, or other toppings to suit your mood provide different offerings for your guests.
Popcorn typically comes in two shapes, snowflake and mushroom. The mushroom shape is the preferred shape for caramel popcorn because it breaks and crumbles less.
Sources & Related Links