Move Over Fruitcake: Cooking Up New Traditions
15th Nov 2021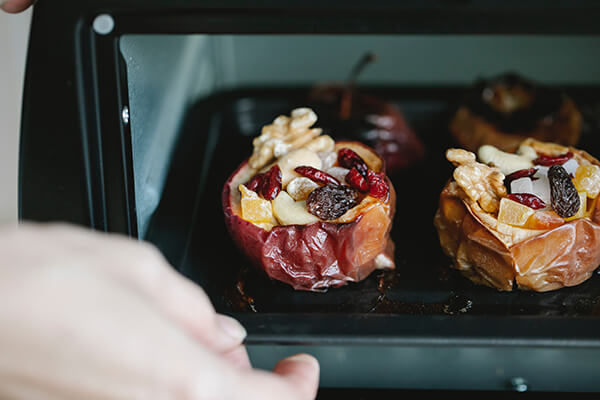 Holiday cooking and baking is a staple of the season, along with the traditional holiday recipes we've all come to expect. This season, and any season for that matter, mix it up a bit with new recipes including nuts, seeds, and dried fruits. Make new favorite recipes this holiday season.
All Natural, Homemade Breakfast or Bars
A healthy option for desert choices. Sweet, chewy bars with a satisfying crunch, and the perfect addition to your holiday celebration. Good for your health while satisfying the sweet tooth. They can take the stress out of your busy holiday morning, or serve as the perfect recipe for favorite holiday gifts.
Servings: about 18 bars
Time: 15 minutes prep, 25 minutes cook, 1-2 hours cooling time
Difficulty: easy
Ingredients
For the Bars:
2.5 cups pre soaked and roasted nuts (I used 2 cups walnuts, 1/2 cup cashews)
1/4 cup flaxseeds
1/2 cups almond butter
1 cup shredded coconut
1/2 cup sunflower seeds
1 cup pumpkin seeds
1.5 cups dried fruit (I used 1/2 cup each raisins, golden raisins, and currants)
3/4-1 cup honey
1/2 teaspoon cinnamon
1/2 teaspoon vanilla
For the Icing:
3 T coconut butter
1 T elderberry syrup
Instructions
Bars
Preheat oven to 350 degrees and line a 9×13 pan with parchment paper
Blend together the nuts and flaxseeds in a high speed blender or food processor.
Add the following in order: almond butter, coconut, sunflower and pumpkin seeds, dried fruit, honey, cinnamon, vanilla.
Mix until combined. Start with 3/4 cup honey, add more as need so that the mixture easily clumps together but isn't liquid.
Press mixture firmly into parchment lined pan. I use a piece of parchment to press down with the heel of my hand.
Bake for 25 minutes, until golden and bubbly.
Remove from oven and allow to cool completely prior to cutting, otherwise they will crumble. I recommend an hour on the counter and an hour in the fridge.
Drizzle with icing (optional), cut and serve. Can be stored in the refrigerator in an air tight container or up to a week or in the freezer for several months. They can travel not refrigerated, but they may crumble if they warm up too much.
Icing
Combing coconut butter and elderberry syrup in a small sauce pan on medium heat until mixture is fluid.
Drizzle over bars.
Source: MyFitnessRx
Pumpkin Pie Tartlets with Maple Pecan Crust
A festive holiday treat without gluten, eggs, or dairy, but still full with wonderful flavor for the holiday season, making your holiday gathering tasty for all.
Nutritional Info
Serving size: 1 tartlet
302 calories
21g fat (2g saturated fat)
0 cholesterol
173mg sodium
28g carbohydrate (16g sugars, 5g fiber)
4g protein.
Ingredients
2 cups old-fashioned oats
4 cups chopped pecans
1/2 cup maple syrup
2 teaspoons ground cinnamon
1 teaspoon sea salt
1 teaspoon vanilla extract
1/4 teaspoon ground cloves
Filling
1/2 cup maple syrup
3 tablespoons cornstarch
2-1/4 cups canned pumpkin or homemade pumpkin puree
1/4 cup cream of coconut, warmed
2 teaspoons vanilla extract
2 teaspoons ground cinnamon
1/2 teaspoon sea salt
1/2 teaspoon ground nutmeg
1/4 teaspoon ground ginger
1/4 teaspoon ground cloves
Topping
1/2 cup chopped pecans
2 teaspoons maple syrup
Dash sea salt
Directions
Preheat oven to 350°. Process oats in a food processor until a fine powder forms. Add pecans; pulse until nuts are chopped. Add next 5 ingredients; pulse until mixture is moistened. Remove from processor.
Fill 18 greased muffin cups with 1/3 cup oat mixture each. Using a wet 1 tablespoon measure, press mixture onto bottom and up sides of muffin cups. Bake until lightly browned, about 10 minutes. Cool on a wire rack.
For filling, whisk together maple syrup and cornstarch. In another bowl, mix remaining filling ingredients, then add maple syrup mixture. Spoon about 3 tablespoons into each crust.
Combine topping ingredients; spoon about 1 teaspoon onto each tartlet. Bake until dark golden and set, 35-40 minutes. Cool 10 minutes before removing tartlets to a wire rack; cool 1 hour. If desired, refrigerate before serving.
Source: Taste of Home
Pistachio Brown Butter Cookies
A show-stopping take on a holiday tradition: delicious flavor, and bound to be a new addition to your holiday recipes.
Prep Time: Prep: 1 hour + chilling Bake: 15 min./batch + cooling | Makes 6 dozen
Nutritional Info
Serving size: 1 cookie
61 calories
3g fat (2g saturated fat)
12mg cholesterol
53mg sodium
7g carbohydrate (5g sugars, 0 fiber)
1g protein
Ingredients
1 cup butter, cubed
6 bay leaves
3 cups confectioners' sugar, divided
2 large egg yolks, room temperature
2 teaspoons vanilla extract, divided
1-1/2 cups all-purpose flour
3/4 cup pistachios, toasted and finely chopped, divided
2 tablespoons water
1 teaspoon flaky sea salt
Directions
In a small heavy saucepan, melt butter over medium heat. Add bay leaves; heat until golden brown, 5-7 minutes, stirring constantly. Remove from heat. Transfer to a large bowl; discard bay leaves. Cool completely until butter is solid.
Add 1 cup confectioners' sugar to butter; cream until light and fluffy, 5-7 minutes. Beat in egg yolks and 1 teaspoon vanilla. Gradually beat flour into creamed mixture; stir in 1/2 cup pistachios. Cover and refrigerate until firm enough to roll, about 1 hour.
Preheat oven to 350°. On a lightly floured surface, roll dough to 1/4-in. thickness. Cut into 1-1/2-in. diamonds. Place 2 in. apart on parchment-lined baking sheets. Bake until edges just begin to brown, 12-15 minutes. Remove from pans to wire racks to cool completely.
For glaze, mix water, remaining 2 cups confectioners' sugar and 1 teaspoon vanilla; stir until smooth. Dip cookies in glaze, allowing excess to drip off. Place on waxed paper; sprinkle with sea salt and remaining pistachios. Let stand until set. Store in an airtight container.
Source: Taste of Home
Apricot and Red Lentil Soup
Add some international flavor to your holiday menu with this Armenian dish. Dried apricots give a wonderfully bright flavor to this simple, surprising soup.
Makes 8 cups = 4-6 servings
Ingredients
4 medium tomatoes (1 1/4 pounds)
3 tablespoons extra-virgin olive oil
1 large onion, cut into 1/4-inch pieces (2 1/2 cups)
2 medium carrots, scrubbed and cut into 1/4-inch pieces (1 1/2 cups)
3 cloves garlic, finely chopped
1/2 cup dried apricots, cut into 1/2-inch pieces
1 teaspoon cumin seed
2/3 cup dried split red lentils
4 cups no-salt-added vegetable broth, warmed
2 tablespoons fresh thyme leaves
3 tablespoons fresh lemon juice
1/2 teaspoon kosher salt, or more as needed
1/2 teaspoon freshly ground black pepper, or more as needed
1/4 cup finely chopped fresh flat-leaf parsley, for serving
Directions
Hull and halve the tomatoes.
Use the large-holed side of a box grater to grate the tomato halves, cut sides down, over a bowl until nothing is left but the skins. Discard the skins.
Heat the oil in a large pot over medium heat.
Once the oil shimmers, add the onion and carrots; cook, stirring occasionally, until they soften and turn sweet, 10 to 12 minutes.
Add the garlic, apricots and cumin seed; cook until fragrant, 2 to 3 minutes.
Stir in the tomato pulp and cook for a few minutes.
Add the lentils, pour in the broth and increase the heat to medium-high.
Once the mixture comes to a boil, reduce the heat to medium-low so the liquid is barely bubbling.
Cover and cook until the lentils are tender, 20 minutes.
Stir in the thyme leaves and lemon juice, then remove from the heat.
Use an immersion (stick) blender to blend about half the soup in the pot, leaving the rest to give the soup texture. (Alternatively, you can transfer half the soup to a blender, puree, and return it to the pot.)
Add the salt and pepper, taste, and add more as needed.
Divide the soup among bowls, top with the parsley and serve hot.
Source: Washington Post
Cranberry Cornmeal Dressing
What would a holiday meal be without dressing and cranberries? Combine holiday favorites for an extra flourish for your holiday dinner.
Prep: 30 min. Bake: 40 min, makes 8 servings
Ingredients
3 cups reduced-sodium chicken broth, divided
1/2 cup yellow cornmeal
1/2 teaspoon salt
1/2 teaspoon white pepper
1/2 pound Italian turkey sausage links, casings removed
1 large onion, diced
1 large fennel bulb, diced (about 1 cup)
1 garlic clove, minced
1 large egg yolk, beaten
4 cups soft French or Italian bread crumbs
3/4 cup dried cranberries
2 tablespoons minced fresh parsley
1 tablespoon balsamic vinegar
1 teaspoon minced fresh sage
1 teaspoon minced fresh savory
1/4 teaspoon ground nutmeg
Directions
In a small bowl, whisk 1 cup broth, cornmeal, salt and pepper until smooth. In a large saucepan, bring the remaining broth to a boil. Add cornmeal mixture, stirring constantly. Return to a boil; cook and stir for 3 minutes or until thickened. Remove from the heat; set aside.
Crumble sausage into a large nonstick skillet; add onion and fennel. Cook over medium heat until sausage is no longer pink. Add garlic; cook 1 minute longer. Drain. Stir in egg yolk and cornmeal mixture. Add bread crumbs, cranberries, parsley, vinegar, sage, savory and nutmeg.
Transfer to a 1-1/2-qt. baking dish coated with cooking spray. Cover and bake at 350° for 40-45 minutes or until a thermometer reads 160°.
Source: Taste of Home
More Information
Do you have any recipes you would like to share? Send us.