What Are Filberts?
26th Jul 2022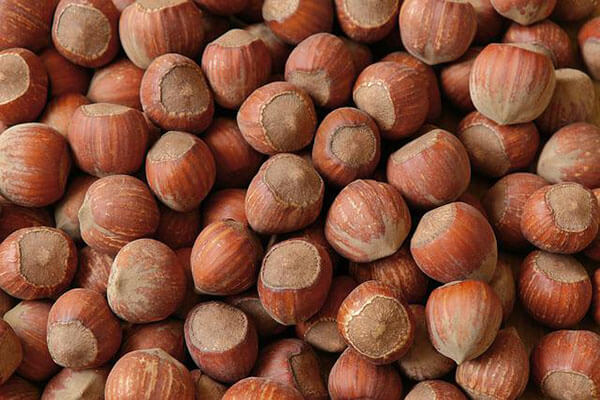 Filberts, or filbert nuts are the fruit of the hazel tree (specifically, of the genus Corylus), and are often called hazelnuts.
The majority of the world's filberts are produced in Turkey, with the United States comprising 2% of the world supply. Within the United States, 99% of the domestic crop comes from Oregon.
Filberts taste sweet, with a bit of an earthy flavor.
Why Are Hazelnuts Known as Filberts?
Both the nut and tree were named "filbert" (or "philbert") by the French, likely in honor of St. Philibert, whose feast day is August 20 and coincides with the earliest ripening date of filberts in England.
Since they are the fruit of the hazel tree, "hazelnut," was the name coined for the nuts by the English. In the United Kingdom and Ireland, a specific cultivated variety—Kent cobnuts—has resulted in filberts being called "cobnuts."
Varieties
Cultivars of the hazelnut trees include:
'Atababa', 'Barcelona', 'Butler', 'Casina', 'Clark', 'Cosford', 'Daviana', 'Delle Langhe', 'England', 'Ennis', 'Halls Giant', 'Jemtegaard', 'Kent Cob', 'Lewis', 'Tokolyi', 'Tonda Gentile', 'Tonda di Giffoni', 'Tonda Romana', 'Wanliss Pride', and 'Willamette'.
Some cultivars are grown for specific characteristics of the nut, such as large size, while others have specific early or late fruiting schedules for harvest planning.
Health Benefits Of Filbert Nuts
A serving of filberts, or raw hazelnuts is one ounce—21 whole kernels. And those 21 hazelnuts pack a punch for health benefits:
8% of DRI of folate, which decreases risk of neural tube birth defects and may reduce risk of heart disease and depression
25% of DRI of copper (necessary for iron absorption)
90% of DRI of manganese (necessary for bone formation)
7 grams of fiber, toward a daily goal of a minimum 28 grams
Highest proanthocyanidin content of any tree nut, reducing risk of blood clotting and urinary tract infections
They are also packed with a number of other nutrients including a high concentration of antioxidants, Vitamin B6, oleic acid, all of which make them a rich source for overall health, but particularly with a abundant antioxidants which help reduce oxidative stress, contributors to better heart health, lowering blood pressure and bad cholesterol and even helping prevent certain types of cancer, and help contribute to healthy skin.
Food and Drug Administration (FDA) research suggests eating 1.5 ounces per day of most nuts, such as filberts or raw hazelnuts, may reduce the risk of heart disease as part of a diet low in saturated fat and blood cholesterol while helping maintain better blood sugar levels, and reduce the risk of cardiovascular disease.
Nutrition Facts of Filbert Nuts (1.5 ounces)
| | |
| --- | --- |
| Calories | 178 |
| Carbs | 4.73 grams |
| Protein | 4.25 grams |
| Fat | 17.2 grams |
| Dietary Fiber | 2.75 grams |
| Calcium | 32.3 mg |
| Manganese | 1.75 mg |
| Magnesium | 46.2 mg |
| Iron | 1.33 mg |
| Vitamin E | 4.25 mg |
| Folate | 32 µg |

Be aware though, while some nuts and seeds are safe for those with nut allergies, filberts and hazelnuts are not -- if you or someone around you has a nut allergy or sensitivity, they should not be given anything with filberts as they would risk having an allergic reaction.
Filberts Uses
Filberts come both in-shell and as natural kernels:
Whole fresh hazelnuts or filberts, raw hazelnuts or filberts are great for snacking
Pre-diced (uses include bakery, artisan breads, confectionery, entrees, salads, soups, encrusting, cereals, bars, toppings, dairy products)
Pre-sliced (decorating cakes, cookies, pastries, candies)
Broken pieces (used in baked goods, candies, granolas, bars)
Roasted (snack, confectionery, bakery, garnish)
Filberts also come in a myriad of other forms, including
Oil (alternative to other cooking oils, incorporated into marinade, vegetable saute, salad dressing, bread dip, ice cream topping)
Paste (Bakery icings and fillings, confectionery, dairy)
Butter (Bakery, dairy, yogurt, icings, fillings, toppings, variegates, truffles, tortes, background flavor)
Flour/meal (Bakery, fillings & sauces, low carb foods, health foods, confectionery, ice cream)
Filbert shells can be used as mulch in landscape cover, as a long-lasting weed deterrent. Shells also burn at high temperatures, so they're largely used to produce fuels such as fireplace logs.
Filberts are most known in popular as hazelnuts and as part of the delicious chocolate spread popularized in Europe.
How to Cook With Filberts
Chopped, sliced or diced filberts can be added to entrees, salads, soups and sides, as well as incorporated into baked goods, adding a rich nutty flavor.
Crushed or ground filberts can be used for encrusting meat or fish.
Filberts Recipes
Filberts are great as healthy snacks but also are wonderful to add to dishes and recipes to bring out the flavors and add more nutrients and health benefits to already delicious meals.
Roasted Filbert (Roasted Hazelnuts)
The first step in making your own version of the delicious chocolate spread mentioned before is to start with roasted filberts. Another advantage to roasted filberts is that they don't have to be refrigerated and will last up to 1-2 weeks at room temperature (longer if stored as noted below).
Roasting filberts (roasted hazelnuts) intensifies their unique flavor and develops their color. Best results can be achieved using a low temperature and longer time. Filberts often do not lose their skins after roasting or will only lose pieces, which is a good thing. Many of the nutrients found in filberts are in the skins! But first we must begin with the roasting process.
Roasting tip: To roast kernels, spread whole, raw kernels in a single layer on a baking sheet and bake at 275 degrees F. for 15-20 minutes, until the skins crack.
Take care not to over roast as nuts can scorch quickly.
To remove skins, wrap warm filberts in a dish towel and let them sit for 5 to 10 minutes. Rub vigorously in towel.
Roasted nuts will not store as long as unroasted nuts, so consume them within a few months of roasting.
Source: https://oregonhazelnuts.org/recipe/roasting-and-storage/
Additional Recipes
Storage
Best option: Dried filberts will maintain eating quality for up to a year in the refrigerator (between 34 and 38 degrees Fahrenheit). If frozen at 0 degrees F, storage can extend to 2 years.
If not stored in the refrigerator or freezer, filberts can be stored in cool storage. The air temperature should be 55 degrees F or lower, and the air should be as dry as possible. Nuts stored in these conditions will not maintain quality for as long as those kept in a refrigerator or freezer.
If leaving filberts in the shell, keep them in a closed container.
The more the nuts are processed, the shorter the shelf life they will have. It is best to process (roast, chop, slice, grind) just before use.
To have filberts handy for adding to a variety of dishes, then simply roast raw kernels, dice and freeze in an airtight container away from foods with strong odors. They will keep for over a year in the freezer and you can remove the amount you need, bring them to room temperature and use immediately.
Read More