10 Delicious Popcorn Recipes to Try
25th Apr 2018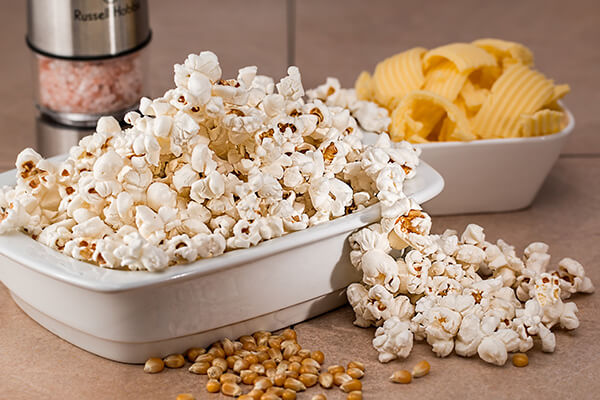 Delicious Popcorn Recipes to Try
Popcorn makes a delicious and easy snack, but plain popcorn can get boring. Here's a list of simple and quick popcorn recipes to spice up your snack time!
When you're craving something sweet or salty, it can be hard to resist the urge to indulge in your favorite snack.
Unless, of course, your favorite snack happens to be healthy. If done right, popcorn offers several health benefits including lowering cholesterol, aiding in weight loss, and even preventing cancer.
It's best to start with plain popcorn kernels. But don't worry - there are tons of healthy popcorn recipes that you can use in lieu of butter and salt.
Don't believe us? Keep reading to discover 10 delicious (and healthy) popcorn recipes.
Island Breeze
Are you dreaming of warm beaches and tropical paradises? Well, we may not be able to help you get there, but we can help you bring the island flavor into your popcorn.
What you'll need:
3 1/2 quarts of popped popcorn
1/3 cup of softened butter or coconut oil
2 teaspoons of curry powder
1 teaspoon of sugar
Almonds
Pecans
Raisins
All you need to do is melt some coconut oil (or butter) with the curry powder and sugar. Add in almonds, pecan, and raisins to taste and toss your popcorn in it!
To make this healthier, consider opting for unsalted nuts.
Frosty Peppermint
If Christmas time and winter wonderlands are more your speed, we have you covered too!
What you'll need:
3 1/2 quarts of popcorn
1/3 cups of crushed peppermint candies
1/2 pound of white chocolate
The base of this popcorn recipe is made with white chocolate, but you could substitute dark chocolate for a healthier alternative. Once you've melted the chocolate, mix in some crushed peppermint candies (or some peppermint extract to avoid the extra sugar).
Drizzle the minty goodness over your popcorn and enjoy!
Hint: This could also make a great addition to a DIY holiday gift.
Parmesan Ranch
This delightful creation is the perfect mix of cheesy goodness and refreshing ranch.
What you'll need:
3 1/2 quarts of popped popcorn
1/3 cup of melted butter or olive oil
1/4 cup of grated parmesan cheese
2 tablespoons of ranch salad dressing mix
1 teaspoon of dried parsley
1/4 teaspoon of onion powder
You can mix your seasonings into melted butter or olive oil and toss your popcorn in it for a delicious and healthy treat.
Sesame Ginger
This Asian-inspired popcorn will take your taste buds all the way across the world.
What you'll need:
3 1/2 quarts of popped popcorn
1/4 cup of melted butter
1/2 teaspoon sesame oil
a splash of soy sauce
a pinch of ginger
peanuts (optional)
wasabi pea-rice cracker mix (optional)
Simply mix it all together and toss in your popcorn!
For a little extra crunch, add in peanuts and wasabi pea-rice cracker mix.
Tex-Mex
You know what they say: "everything's bigger in Texas!" Well, now you can enjoy a big Texas flavor in a small, healthy snack.
What you'll need:
1/2 cup of popcorn kernels
3 tablespoons of canola oil
1 teaspoon of chili powder
1/2 teaspoon of garlic powder
1/8 teaspoon of smoked paprika
1/4 cup of minced cilantro
Simply mix all the seasonings together in the canola oil and toss it over your popped popcorn.
For an even bigger flavor, we recommend cooking your popcorn kernels in a Dutch oven over medium heat with the canola oil and 1/2 teaspoon of cumin seeds.
Once the oil starts sizzling, cover and shake the popcorn until you hear it start to pop. Once the kernels are popped, you can dust the seasonings over top.
Coconut Curry
If you're looking for an Asian-inspired snack that mixes a little bit of spice with a tropical flavor, then coconut curry popcorn is the snack for you.
What you'll need:
1/2 cup of popcorn kernels
1 tablespoon of melted coconut oil
2 teaspoons of ginger powder
1 tablespoon of curry powder
1/4 cups of coconut flakes
All you have to do is mix the seasonings into the melted coconut oil. Drizzle it over your popcorn and sprinkle in the coconut flakes for some extra crunch!
Apple Pie
Are you missing those delicious apple pies that mom used to make during the holidays? While a hearty slice of apple pie might not fit into your diet, you can mimic those flavors with one of our unique popcorn recipes.
What you'll need:
4 cups of popped popcorn
2 tablespoons of melted coconut oil or olive oil
2 teaspoons of sugar
1 teaspoon of apple pie spice
1/2 teaspoon of cinnamon
1/4 teaspoon of vanilla extract
The base of this recipe calls for melted coconut oil, but if you don't like the taste (or you think it has no place in apple pie), then you can substitute olive oil. The next step is to mix all the spices into your base.
Just toss your popcorn and reminisce about your mother's wonderful baking as you enjoy a sweet snack.
Chocolate Peanut butter
Chocolate and peanut butter - now that's true love. If you find yourself craving sugar and Reese's, try to curb those cravings with a healthier alternative.
Bonus: if you're not a huge fan of cooking, this is one of the simpler popcorn recipes on the list!
What you'll need:
1/2 cup of popcorn kernels
3/4 cup of chocolate chips
1/4 cup of peanut butter
It's so easy, you'll want to make it every day! Just melt the chocolate chips in the microwave and drizzle it on top of your popped popcorn. Follow up by drizzling some peanut butter over it, too! Then, you can just sit back and enjoy your sweet treat.
Churro
If you're on a strict diet, you might want to skip this one. Although this recipe is healthier than some snacking alternatives, it's definitely a cheat day treat.
What you'll need:
1/2 cup of popcorn kernels
4 tablespoons of butter
1 cup of vanilla almond bark
1/2 cup of powdered sugar
1/4 cup of white granulated sugar
2 1/2 tablespoons of cinnamon
1 teaspoon of allspice
While most of the other popcorn recipes allow you to substitute butter for olive or coconut oil, we strongly recommend you stick to butter with this one.
Just melt the butter and add in the bark, sugars, and spices. Mix it up real good and toss in your popcorn! You'll be left with a delectable treat that's bound to remind you of your favorite street car dessert.
Tequila
Who says popcorn can't be boozy, too! This recipe is inspired everyone's favorite party shot - tequila! This is a play on the saltiness we typically associate with popcorn.
What you'll need:
3/4 cup of popcorn kernels
3 tablespoons of melted butter or olive oil
1 teaspoon of tequila
2 teaspoons of lime juice
2 teaspoons of light brown sugar
1/2 teaspoon of cumin powder
1 teaspoon of cayenne pepper
1/2 teaspoon of ground pepper
2 teaspoons of salt
Start with either melted butter or olive oil. Then mix in your lime juice, tequila, sugar, and seasonings. Once your mixture is complete just toss your popcorn in it.
This snack is perfect for a girl's night in, and goes great with, well, tequila shots!
Best Popcorn Recipes
Popcorn is a favorite snack for many people. The best part is that it doesn't have to be unhealthy either!
Instead of going for the normal butter and salt combo, try one of our unique popcorn recipes to enjoy a healthy and unique snack!
Are you looking for some delicious popcorn without the hassle? Check out our product page to buy your popcorn today!