Cooking with Dried Fruit - Bringing Sweetness and Nutrition to Your Dishes
22nd Mar 2022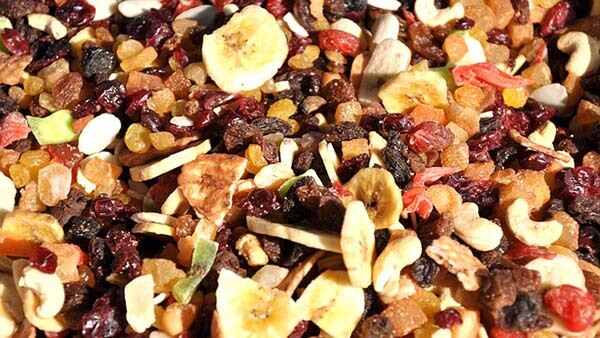 Dried fruits make great snacks. Dehydrated and compressed, the sweetness of some is like biting into sweet candy, but with health and nutrition benefits. But aside from a snack, or making fruit cake or other desserts, what else can you do with dried fruits?
As it turns out, quite a bit.
Yes, definitely keep your snack stash, but here are some great recipes and options, and tasty ways to pump up the nutritional value and sweetness of your cooking. Adding dried apricots, dates, or raisins or others can add an intense fruit flavor.
(Hint: They're also good to spice up a fruit salad by adding in those flavors that you don't always use and are hard to keep fresh, so you can swap ingredients for new flavors for old favorites!)
Breakfast: Ultimate Fruity Granola
Starting out with an obvious choice, there's the Ultimate Fruity Granola
Perfect for snacking on it's own, but also it's makes a delicious cereal when added to milk, perfect with yogurt, or even sprinkled over stew or soup. A wonderful mix of flavors and textures. But keep it to small portions.
Time: 15 min. Bake: 20 min. + cooling | Makes 9 cups
Nutritional Information: Serving size:1/2 cup: 253 calories, 10g fat (2g saturated fat), 0 cholesterol, 86mg sodium, 38g carbohydrate (18g sugars, 5g fiber), 6g protein.
Ingredients:
5 cups old-fashioned oats
1 cup sliced almonds
1/2 cup sunflower kernels
1/2 cup ground flaxseed
1/2 cup packed brown sugar
1/4 cup maple syrup
1/4 cup honey
2 tablespoons canola oil
1/2 teaspoon salt
1/2 teaspoon ground cinnamon
1 teaspoon vanilla extract
1/2 cup dried cranberries
1/2 cup dried banana chips
1/2 cup dried apricots, halved
Directions:
In a large bowl, combine the oats, almonds, sunflower kernels and flax.
In a small saucepan, combine the brown sugar, maple syrup, honey, oil, salt and cinnamon.
Cook and stir over medium heat for 2-3 minutes or until brown sugar is dissolved and mixture is heated through.
Remove from the heat; stir in vanilla.
Pour over oat mixture and toss to coat.
Transfer to a 15x10x1-in. baking pan coated with cooking spray.
Bake at 350° for 20-25 minutes or until golden brown, stirring every 8 minutes.
Cool completely on a wire rack.
Stir in dried fruits.
Store in an airtight container.
Salad: Great Grain Salad
Moving on to the salads, there's the Great Grain Salad, which is a healthy and tasty take on the course that just might change your view on eating healthy.
Time: Prep: 15 min. Cook: 1 hour + chilling | Makes 12 servings (3/4 cup each)
Nutritional Info: Serving size: 3/4 cup: 368 calories, 22g fat (3g saturated fat), 0 cholesterol, 281mg sodium, 39g carbohydrate (11g sugars, 4g fiber), 8g protein.
Ingredients
3 cups water
1/2 cup medium pearl barley
1/2 cup uncooked wild rice
2/3 cup uncooked basmati rice
1/2 cup slivered almonds
1/2 cup sunflower kernels
1/2 cup salted pumpkin seeds or pepitas
1/2 cup each golden raisins, chopped dried apricots and dried cranberries
1/3 cup minced fresh parsley
4 teaspoons grated orange zest
Vinaigrette:
2/3 cup walnut oil
2/3 cup raspberry vinegar
2 teaspoons orange juice
2 teaspoons pepper
1 teaspoon salt
Directions
In a large saucepan, bring water to a boil.
Add barley and wild rice.
Reduce heat; cover and simmer for 55-65 minutes or until tender.
Meanwhile, cook basmati rice according to package directions.
Cool barley and rices to room temperature.
In a large bowl, combine the almonds, sunflower kernels, pumpkin seeds, dried fruit, parsley and orange zest; add barley and rices.
In a small bowl, whisk the vinaigrette ingredients.
Pour over salad and toss to coat. Cover and refrigerate for at least 2 hours.
Main Course / Entrée: Cod Arracanato
A meal needs a main course, and here is a delicious recipe that truly enlivens the flavor of the fish.
Makes 4-6 servings
Ingredients
¼ cup raisins
¼ cup dry white wine
1½–2 lb. skinless, boneless cod or other firm white fish fillets
1 tsp. regular crystal or ½ tsp. kosher salt, plus more Freshly cracked black pepper
7 Tbsp. extra-virgin olive oil, divided
½ cup breadcrumbs
¼ cup pine nuts
1 Tbsp. finely grated lemon zest
1 tsp. dried oregano
1 garlic clove, finely grated
Parsley and lemon wedges (for serving)
Directions
Preheat oven to 350°.
Place raisins in a small bowl and pour wine over (wine should cover raisins).
Pat fish dry with paper towels and season on both sides with salt and pepper.
Drizzle bottom of a broiler proof baking dish large enough to fit fish with 3 Tbsp. oil.
Arrange fish in baking dish.
Mix breadcrumbs, pine nuts, lemon zest, oregano, garlic, and 1 tsp. crystal or ½ tsp. kosher salt in a small bowl.
Holding back raisins, drizzle wine evenly over fish.
Stir raisins into breadcrumb mixture, then spoon mixture over fish, patting to adhere.
Drizzle remaining 4 Tbsp. oil over top.
Bake fish until flesh is opaque and beginning to flake, 13–16 minutes.
Heat broiler.
Broil fish until breadcrumbs are crisp and golden brown, about 2 minutes.
Scatter parsley over fish; serve with lemon wedges for squeezing over.
Side Dish: Garlic-Spiked Broccoli with Cranberries
Looking for a new twist on a sweet and nutritious side dish? Try this Garlic-Spiked Broccoli with Cranberries dish.
Time: 15 minutes (10 prep, 5 cooking) | Serves 4
Ingredients
2 teaspoons olive oil
3 cloves garlic, minced
4 cups broccoli florets
1/2 cup sweetened dried cranberries
Salt and ground black pepper
Directions
Heat oil in a large skillet over medium heat.
Add garlic and sauté 1 minute.
Add broccoli and cranberries and sauté 3 minutes, until broccoli is crisp-tender.
Season, to taste, with salt and black pepper.
Aperitifs and other cocktails
You're likely used to seeing drinks garnished and flavored with fresh fruit, but have you thought about using dried fruits? It's the perfect add on for a refreshing drink! Whether it's a fruity, sweet drink with dried strawberries, or a combination of dried mangoes and dried papayas for a taste of sangria. Experiment to find the taste combinations that suit your palette and your drink of choice.
Conclusion
Dried fruits are as delicious as they are convenient. Remember, they are dehydrated fruits, so they have all the sugar and nutrients in the whole fruit, in a smaller package. That means for some, they have high calorie counts and a high sugar level. But they are also great to swap ingredients for some of the processed sugars you may be cooking with already.
Whether you're making an apricot biscotti, a fruit cobbler, or looking for new flavors to add to your home brews, dried fruit is a great swap ingredient for frozen fruits or even to experiment with.
Delicious, nutritious, and easy to store and cook with. You'll be amazed at what creative ideas and delicious combinations you come up with.